The End of the World as We Know It (Digital Download) by Johnny Enlow; Code: 9697D
The End of the World as We Know It (Digital Download) by Johnny Enlow; Code: 9697D
This End Is Just the Beginning
Respected prophetic voice Johnny Enlow believes that before there is a "great awakening," we often experience a rude awakening. Some call it a shaking.
The End of the World as We Know It (book & audio series) will infuse you with confidence. Its Biblical framework gives you perspective on uncertain times.
So how do we move forward? Johnny's audio series includes 4 sessions: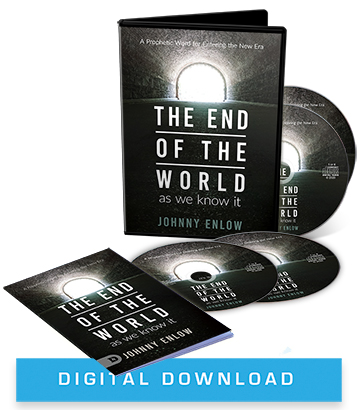 •  Crossing Over in a Storm
•  America, Trump and 2020 Prophecies
•  The King Comes with His Kingdom
•  Can We Delay Jesus' Return?
And you will also smile with Johnny as he says, "No matter what happens over the next few hours and days—everyone, remain calm. This is not the end, but only the end of the world as we know it…"
Revival and reformation often come on the other side of crisis. So be encouraged that God works in all things for your sake—for good!
Johnny goes on to share 5 keys to navigating the "New Era" before us. He encourages you to put fear behind you and to focus on what God is doing in such a time as this. The world is our inheritance now!
Johnny Enlow and his wife, Elizabeth, are spiritual parents to many throughout the nations, as well as their own son and daughters. Their passion is to awaken this generation to the reality of God and His concern for every problem that exists in society and our world.
---