Receiving Your Healing (Book & 3-CD Set) by Carlie Terradez; Code: 9660
Receiving Your Healing (Book & 3-CD Set) by Carlie Terradez; Code: 9660
How to See Your Healing Through God's Eyes
God is a good God, and His healing power is alive and active. He takes notice when we seek Him as Healer. For everything. For 100%. For all the way.
Carlie Terradez says there is only one possible conclusion—miracles and healing are "a piece of cake for Jesus."
Out of that revelation comes Carlie's standing invitation. Change your thinking and receive your healing.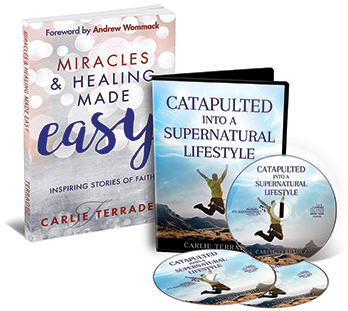 Carlie's book and 3-CD set will motivate you to do that. Her teaching includes Miracles and Healing Made Easy (book) and Catapulted into the Supernatural (3-CD set).
Receiving Your Healing is for everyone willing to agree God's not holding out on healing! He wants you healed all the way.
Special bonus! With your online purchase, you will also receive access to a downloadable digital version of the CD set after checkout.
Carlie Terradez was born and raised in the UK and moved to the USA after graduating from Charis Bible College in 2008. She and her husband Ashley are ordained with Andrew Wommack Ministries.
---