Psalm 91 Protection (Book & Prayer Card) by Peggy Joyce Ruth; Code: 9688
Abide Under the Shadow of the Almighty
Blessed assurance for turbulent times! Offering an in-depth look at "protection" promises, Peggy Joyce Ruth walks you verse by verse through Psalm 91 to open your eyes to the truth of God's presence.
In Psalm 91 (book), Peggy's comforting insights—and the personal testimonies of others—will help you turn away from fear and terror, and instead trust that God's supportive shield surrounds you in every imaginable circumstance, coronavirus or otherwise!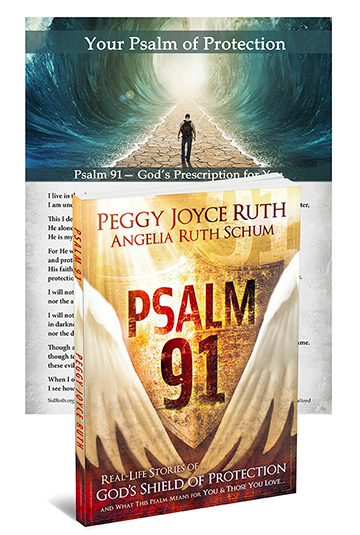 With it, you also get our personalized Psalm 91 Prayer of Protection card for powerful and immediate action to decree over yourself and your family. Use it daily!
Psalm 91 is a powerful anchor in turbulent times and the perfect antidote to fear!
Peggy Joyce Ruth and her husband, Jack, former pastor at Living Word Church, has taught Wednesday night adult Bible study for over thirty years. She continues to teach a weekly radio Bible study called Better Living on KPSM 99.3 FM. She has been a featured guest and many seminars and conferences.