Outback Keys to Healing (Book & 3-CD Series) by John Mellor; Code: 9592
Jesus heals in the Outback of Australia and wherever you go!
John Mellor spent his early believing life critical of the healing ministry. Imagine the shock when he prayed a quick prayer and a healing miracle took place. It transformed an entire village in the Outback of Australia! 
In his book, Keys to Healing, John shares what God has taught him in spite of his reluctance. John's revelation and experience will equip you to believe for your own healing and to pray for others. As John and his wife Julie travel the nations they witness outstanding miracles — so many and so significant that not only has John been a guest on many secular TV shows, but he has had more miracles take place than any other guest in our TV studio. John encourages you to: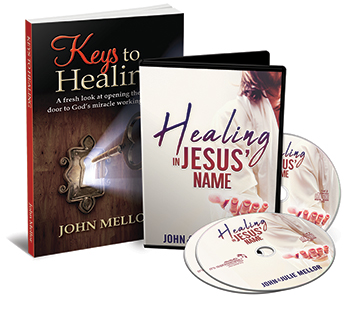 • Know the promises of God and have childlike faith
• Embrace forgiveness and deal with sin
• Renew your mind and walk in positive confession
• And more!
Exclusive to our audience, the Mellor's 3-CD teaching series, Healing in Jesus' Name, not only equips you to do the same as they do, but John prays an impartation over you to receive your own healing and the gift of ministering healing to others. Jesus is the Name that heals today.
John Mellor was a missionary pastor among the tribal Aboriginal people. He struggled to believe in the healing nature of Jesus. Then God began to use him to heal. In Scotland, miracles were so prolific national media sought to expose him but became his biggest promoters instead.