Igniting Revival Fire Every Day (Book & CD/Audio) by Todd Smith; Code: J9726
Igniting Revival Fire Every Day (Book & CD/Audio) by Todd Smith; Code: J9726
Walk in Revival Fire!
Pastor Todd Smith assembled some of the world's top voices of revival in his book, Igniting Revival Fire Every Day. They have seen God move powerfully and want you to know that you can too!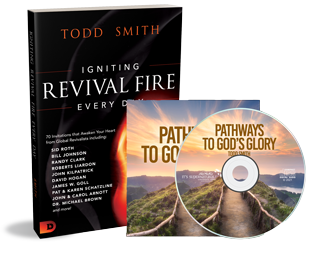 Also, in his exclusive CD, Pathways to God's Glory, you will hear from members of Todd's church who have put in practice the principles that he teaches about the Glory.
Todd Smith serves as lead pastor of Christ Fellowship Church in Dawsonville, GA. In addition, he is host pastor of the North Georgia Revival where thousands of people have experienced fire and healing in its baptismal services.
---