Heaven has angel armies for good reasons
One of them is because you have a voice. So when was the last time you took back something from the kingdom of darkness?
Venner Alston suggests that the problem is not with your faith. It's with your fight. God gave you armor for a reason!
In her new book & 4-CD set, Next Level Spiritual Warfare, Venner challenges you to dominate the lower realms with your mouth. Like Israel, you take your inheritance by force—that means you wage war with your words and the word of God. AND YOU WIN. Venner's way is for you to: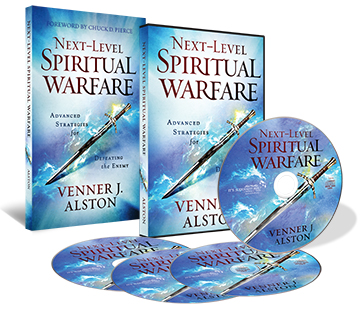 • Use strategies for restoration AND retribution
• Understand the 3 levels of warfare
• Know your mighty weapons
• Know the difference between waiting and delay
• Actively partner with God and get revelation
Venner says silence is not an answer! Pray until your knowing comes! And she can help.
Special bonus! With your online purchase, you will also receive access to a downloadable digital version of the CD set after checkout.
Venner J. Alston, Ph.D. is a gifted teacher and founder and apostle of Global Outreach Ministries and Traing Center, Milwaukee, WI.