Healing Treasures from the Word of God package (Book, 3-CD/Audio Series & DVD) by Dr. Sandra Kennedy; Code: 9720
Receive Your Healing Breakthrough Today!
Dr. Sandra Kennedy has been training believers for decades on how to activate God's Word to receive healing miracles. Sandra helps you tap into her 40 years of learning the "difference makers" for healing.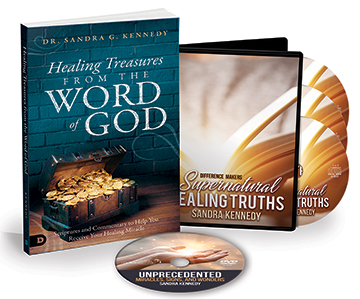 Her new book—Healing Treasures From the Word of God, and her companion 3-CD series, Difference Makers: Supernatural Healing Truths, will get you focused and ready to receive. Sandra's latest teaching will:
• Transform the way you read the Bible—as the Miracle Book
• Supernaturally strengthen your faith to receive your breakthrough
• Inspire you to fall in love with the Word—your love letter from God!
Then Sandra's DVD, Unprecedented, settles the question of God's supernatural power! See it to believe it and then press into it!
Dr. Sandra Kennedy is founder and Senior Pastor of Whole Life Ministries in Augusta, Georgia. She has been teaching the principles of healing for over forty years and is passionate about helping people learn to walk in health and wholeness. Sandra has been healed numerous times and has helped countless numbers of people receive their healing.