Harbinger of Hope (Book, 3-CD Set & Bookmark) by Robin McMillan; Code: 9659
Sale!
Harbinger of Hope (Book, 3-CD Set & Bookmark) by Robin McMillan; Code: 9659
God stunned Robin McMillan with a vision for the corporate body of believers. Are you in?
Just as Jacob lamented the loss of his beloved son Joseph, many believers have lamented the current state of the world. But just as Jacob was shocked and delighted to discover Joseph was still alive, you will be jolted by God's sudden message to Robin McMillan—startled and revived.
For Robin, revelation came when God gave him a vision of five wagons, then told him their hidden meaning. Harbinger of Hope, Robin's new book and 3-CD set, unfolds their contents. The five wagons represent God's provision for believers today: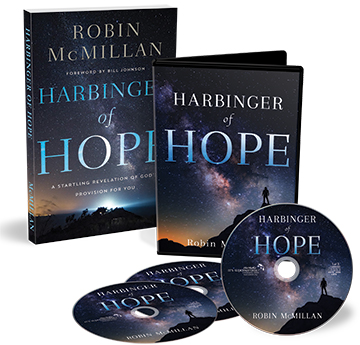 • Hope—the kind that overcomes disappointments
• Deliverance from what we deserve
• Deliverance from criticism—of us and by us
• Secure provision
• New vision for believers in the last days
This is a message of God's provision and goodness totally out of character with the headlines of our day. Why did God send it? So that you would believe and bring it to pass!

Special bonus! With your online purchase, you will also receive access to a downloadable digital version of the CD set after checkout.
Robin McMillan is the Sr. Pastor of Queen City Church in Charlotte, NC. His passion is to awaken the church to the power of the Spirit and be empowered to live a supernatural life.
---