God's Unstoppable Breakthrough (Book & 3-CD/Audio Series) by Matt Sorger; Code: 9719
God's Unstoppable Breakthrough (Book & 3-CD/Audio Series) by Matt Sorger; Code: 9719
When the mountain doesn't move…
There are times when God dramatically breaks through the obstacles in our lives, bringing instant change and deliverance.
But what can you do when the mountain doesn't move and promises aren't fulfilled right away? Ask Matt Sorger.
Matt's new book, God's Unstoppable Breakthrough, gives you the Kingdom answers you need to: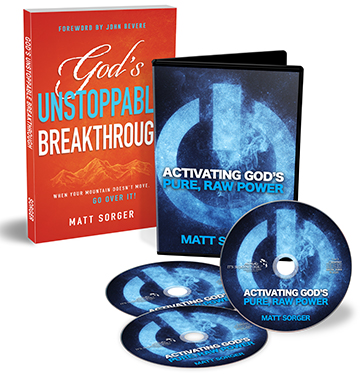 • Live in constant, consistent breakthrough
• Go OVER your mountains of opposition
Matt says you are able to prevail, and God will use your challenges for good. His 3-CD/audio series, Activating God's Pure Raw Power, goes on to give you 3 key teachings:
• God's Pure Raw Power – Learn to receive God's love AND reproduce it
• Power in the Secret Place – Learn the ways to access it
• Glory Breakthrough – Your breakthrough brings access to God's glory
"I've never heard such powerful revelation about going over the wall of impossibilities in your life!"   —Sid Roth
Matt Sorger has ministered in over 35 nations and also through television and online media. He hosts a weekly podcast, Glory Living, on the Charisma Podcast Network, and he sits on the Apostolic Council of Prophetic Elders. Matt resides in Charlotte, NC with his wife, Stephanie, and their two sons.
---