Freedom in the Glory (6-CD/Audio Series) by David & Joanna Hairabedian; Code: 9804
Freedom in the Glory (6-CD/Audio Series) by David & Joanna Hairabedian; Code: 9804
There's more than one type of prison. You were meant to be free!
David Hairabedian found himself ensnared in the pit of worldly ambition gone wrong—it led straight to federal prison and 20 years of consequences came with it.
But it did not destroy David and his story of salvation became an outrageous example of how God will work in your life to accomplish His outcome! For good!
If you find yourself imprisoned by circumstances past or present…
David says no life circumstances can stand against God! His blueprint for freedom and breakthrough requires a first step—agree with God and not the devil!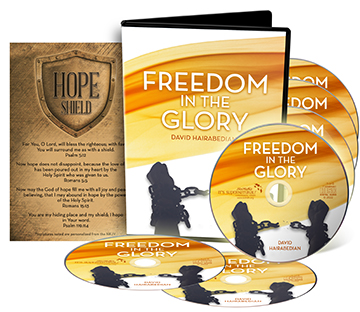 David's 6-CD/audio series, Freedom in the Glory, gives glimpses of a miracle testimony some would envy and all can admire. If you need breakthrough in your life, David's keys include:
• Breaking free from your private prison
• The power of repentance
• Breaking the power of hope deferred
• Tongues as a resource against unseen obstacles
David learned that the power of God overcomes your past. His offer includes his powerful reference card, Hope Shield!
David Hairabedian's ambitions led to 20 years in federal prison, where he faced strong opposition to parole and early release. But repentance to God birthed a turnaround miracle ministry that continues to bear fruit years after his release!
---