Exposing Satan's Playbook (5-CD/Audio Series & Guide) by Todd Coconato; Code: 9821
Sale!
Exposing Satan's Playbook (5-CD/Audio Series & Guide) by Todd Coconato; Code: 9821
Todd Coconato says it's time for
satan

to feel beat down and discouraged. Right?

In this 5-CD/audio series, Todd Coconato teaches you how to avoid the enemy's assignments against you, obvious or not. Todd even says you can defeat satan using his own playbook!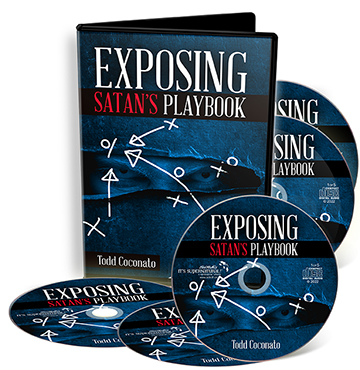 Some seasons, it's almost too quiet. Others, you know you're in a battle. But where to start?
• Set aside time to get clear strategy from Heaven. First!
• Live on the offense—satan belongs on defense
• Insulate your home and family from attacks
• Know who's speaking: Thoughts come from God, your self or satan
The devil's tactics go all the way back to the Garden of Eden, but Exposing Satan's Playbook turns the tables. Todd says it's time for satan to feel discouraged, and you have the means to do it.
Todd reminds every believer you don't have to fall for deceptions, whether it's fear, doubt, offenses, jealousy…sins that carry you away from God's perfect will and callings, out of His favor and covering. And we agree.
Todd's offer includes a valuable guide card to remind you how to keep yourself above and satan below! It's your reference shield to keep your world right side up!
Todd Coconato is president of the Religious Liberties Coalition, a non-profit, national coalition of pastors and ministry leaders.  He serves as head of Todd Coconato Ministries, based in Nashville, TN and radio host to "The Todd Coconato Show — The Remnant." Todd's focus is revival and spiritual awakening.
---