Equipped for the End-Times (Digital Download) from Sid Roth; Code: 3595D
Equipped for the End-Times (Digital Download) from Sid Roth; Code: 3595D
This Way to Victory in Uncertain Times
Even though the world is facing uncertain times, you can walk in God's favor and peace knowing that God is moving forward and His plans for you are for good. What does that mean? Health, provision, protection, discernment, direction and unshakeable intimacy with Father God!
To celebrate Sid's 80th birthday, Sid invites you to come along as we move into a new decade — "We're just getting started!" Crafted for our present uncertainties, Sid's 10-part audio masterclass, Equipped for the End-Times, delivers essential keys for 2020 onward.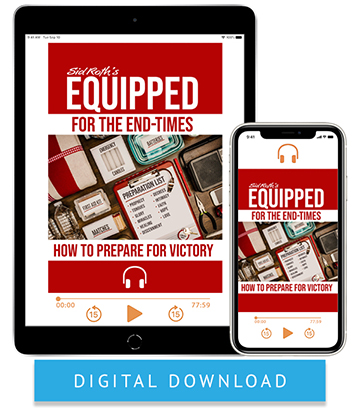 You get clear biblical direction from ten of the best teachers on the supernatural, including:
Tracy Cooke — How to Walk in the Prophetic
Becca Greenwood — Walking in Spiritual Discernment
Kynan Bridges — How to Walk in the Miraculous
Ana Werner — Seeing in the Spirit
Ivan Tuttle — Heaven, Hell and the Importance of Evangelism
Clarice Fluitt — Meditating on the Word of God
Todd Smith — How the Walk in the Gift of Tongues
Robert Henderson — Supernatural Finances in the Courts of Heaven
Katie Souza — Decreeing the Word of God for Your Protection
Ryan Bruss — Walking in Intimacy and the Love of the Father
Sid urges you to join him as we go forward. And prosper even as your soul prospers!
---