Encountering Our Wild God (Book & 3-CD Set) by Kim Meeder; Code: 9621
Encountering Our Wild God (Book & 3-CD Set) by Kim Meeder; Code: 9621
Go beyond the daily routines of your life.
Kim Meeder says God is unstoppable, unfathomable and untamable. He is wild.
God is not calling you to fully understand Him, but He does want you to fully trust Him. In this place of complete trust, you'll see the miraculous and experience the limitless nature of your wild God. So when was your last encounter?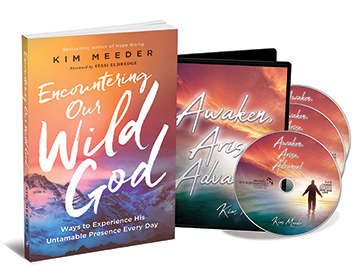 In her book, Encountering Our Wild God, Kim gives practical ways for you to pursue God more passionately and trust Him M-O-R-E. She says it's God's greatest desire that you walk in this experiential knowledge of Him. Out of that, you have access to everything you need!
And through her new, exclusive 3-CD series, Kim challenges you to Awaken, Arise, Advance! There is more that God has for you. You are about to embark on the adventure beyond the daily routines of your life!
God wants you to live for your next encounter!
Special bonus! With your online purchase, you will also receive access to a downloadable digital version of the 3-CD set after checkout.
Kim Meeder is cofounder of Crystal Peaks Youth Ranch, a ministry that rescues abused horses and pairs them with children in need. Founded in 1995, the ranch has helped establish 152 similar ministries worldwide. She and her husband, Troy, live in Central Oregon.
---