Sale!
Breakthrough to Your Miracle (Book & 4-CD Set) by Jason Noble; Code: 9656
God's Miracles Flow Through You, For You
Pastor Jason Noble has witnessed miracles but none so electrifying as the story of John Smith—the young boy who fell through ice into freezing waters. Declared dead for over an hour, John also walked out of the hospital two weeks later. Why, Jason asks, don't believers see more miracles like this one?
Against the backdrop of the major motion picture Breakthrough, he gives you first-hand insights from this powerful example of how God moves. Out of the experience, Jason: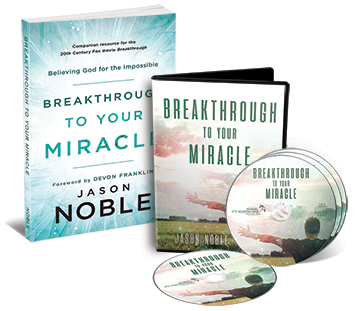 • Reveals the heart of miracles
• Shows how God works in believers to invade the natural with the supernatural
• Provides keys to help position you for the miraculous
Breakthrough to Your Miracle, Jason's book and 4-CD set, helps you find the boldness to believe the God of miracles! You are His conduit. In a time of crisis you can rise to the occasion!
Special bonus! With your online purchase, you will also receive access to a downloadable digital version of the CD set after checkout.
Jason Noble is a pastor and motivational speaker who believes God can do the "impossible"— and he has seen it firsthand.