A Journey to Hell, Heaven and Back (Digital Download) by Ivan Tuttle; Code: 9711D
A Journey to Hell, Heaven and Back (Digital Download) by Ivan Tuttle; Code: 9711D
Heaven, Hell and Your Future
Ivan Tuttle was dead for almost 3 hours. During that time, he was literally taken to Hell, then Heaven and back to Earth. The revelation he received was so profound, God told him not to talk about it for 35 years!
We have just published the expanded, updated edition of Ivan's book, A Journey to Hell, Heaven and Back, that includes details never before revealed. Beyond a vivid depiction of Hell and Heaven, Ivan shares revelation and prophecy God downloaded to him that is essential end-time information. He saw future events in specific nations and regions of the world, some of which have already come to pass.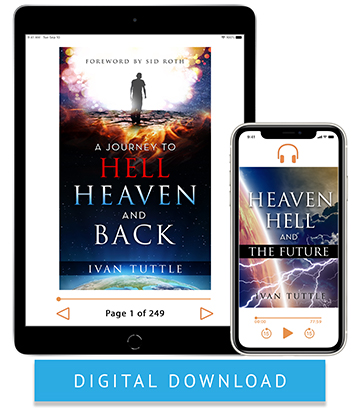 In his 3-part audio series, Heaven, Hell and the Future, Ivan also shares about:
•  Aborted and stillborn babies in Heaven
•  Why he saw pastors in Hell
•  Both demonic portals and portals to Heaven
•  What Heaven is like (and much more)
Ivan's book and 3-part audio series will strengthen and deepen your walk with God. Current events clearly show that's where your focus belongs today!
Ivan Tuttle has been a business owner, manager, vice president of a large corporation and an ordained minister. His ministry focus is to turn people back to God while there is time.
---