March 2007 Newsletter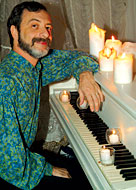 I was born to Jewish parents in Kiev but the only religion I was ever exposed to was atheism. Deep inside I knew there must be a Creator.
My family were musicians. My grandfather was a violinist and composer. My father was a violinist and my mother a classical guitarist; both were well known in the former Soviet Union. I began studying piano at age five and at age 14 I was composing operas and symphonies. Although I completed my B.A. in Piano Performance, I knew I would be denied entry to the Kiev Conservatory because I was Jewish. Desperate to continue my studies, I applied for permission to emigrate. I became very anxious, very fearful, afraid that they wouldn't let me leave, that I would always be persecuted. Although I didn't know anything, I decided to pray to Yeshua (Jesus), the one my atheism class had taught me about. "Jesus, please get me out of this country."

Soon after my prayer, my family received permission to emigrate and in 1979 we began a new life in Chicago. There I enrolled in DePaul University and obtained my Masters in Piano Performance. In 1984 I married my wife.
I found freedom and faith in the God of Abraham, Isaac and Jacob, in Jesus, His Son, who died for my sins.
New compositions came to me, classic in form, yet overflowing with the sounds of my Russian-Jewish roots. My love for Israel and concern for the plight of my people continued to be a recurring theme in my music. I was inspired by a desire to compose music that was an offering of praise to God.
Comprehending extravagant love
I experienced the most life-changing event of my walk with the Lord about three years ago at a seminar entitled, "Imparting the Father's Heart," with Jack Frost. When Jack ministered, he taught about the intense love the Father has for us. Most of us have a difficult time relating to God as our Father. We think of Yeshua, or Jesus, as the one who came to save us from the wrath of an angry God. But Yeshua Himself said, "the Son can
do nothing of Himself, but what He sees the Father do" (John 5:19). And the Scripture tells us, "God is love."

I believe the reason why we have such a hard time relating to our Heavenly Father is because we weren't shown enough love by our earthly fathers. My own father died when I was five years old. I have some memories
of him and I know that he loved me, but I remember that he usually rewarded me when I did well. If I disappointed him, I did not get rewarded. It made me feel as if I had to earn his love. So when I came to the Lord, I based my relationship with Him on what I could do for Him. It affected my wife and my children and the people around me. My identity was so wrapped up in what I didmusic and ministrythat they took precedence over my family and my relationship with others. I did not really know how to rest in God's love or abide in His presence—even when I was touched by revival in 1995 and 1996. My music became more anointed, but it continued to occupy a place of greater importance in my life than my family.
Finally, during the 25 days of training with Jack in January of 2004, I realized that no matter what my calling is my life must be rooted and grounded in the love of my Heavenly Father. Paul, in 1 Corinthians 13:2, tells us, "Though I have the gift of prophecy, and understand all mysteries and all knowledge… but have not love, I am nothing."

Knowing the Father's love is the foundation for our livesfor everything we do. We were created for intimacy, in the image of our Father, and the whole Torah and the prophets are resting on two commandments: "You shall love the Lord your God with all your heart, with all your soul, and with all your mind" and "You shall love your neighbor as yourself" (Matthew 22:37, 39). I had begun to learn how to experience the Father's love. I learned how to just rest in Daddy's arms, as He would bathe me in His love.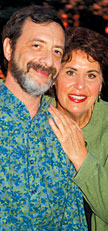 I had never realized that I had such a deficit of love. Many of my wounds began to be healed as the Lord's love would push out of me the hidden core pain. I cried at least every other day. The valley of Baca (tears) from Psalm 84 became, for me, a way back to my Daddy's home. For the first time in my life, I started to have a sense of being at home. I repented to my wife and my children and it began to bring healing to their hearts. For the first time, I really began to understand what it meant to be a father to my children.
My own life was broken, my spirit crushed, but I was healed and transformed. My Father loves me; I am free to love. Since the Father has revealed His love to me, I am finding that He is using my compositions and concerts to reveal His Father heart to others all around the world.
Vibrations create and change substance
I recently composed a CD entitled, The Lord is My Healer. Scriptures read in Hebrew accompany the music. It's amazing because people are being touched in their spirits although they may not understand the Hebrew language. Interestingly, a Swiss physician and scientist, Hans Jenny, constructed an instrument called a "tonoscope" to make sound visible on substances like water or sand. Different shapes appeared on the sand as the result of different sounds coming through the device. He then tried spoken words in different languages
but nothing happened. When he spoke the Hebrew language, however, the language spoken made the shapes of Hebrew vowels on the sand. None of the modern languages did that. Although Hans Jenny was not a Christian, I accept the science of his research.

I believe that, when God spoke the universe into existence, the sound of His voice set in motion frequencies that became shapes. In fact, many scientists believe that everything in this universe is made of sound. Today, when we align our thoughts with the thoughts of God and speak them out, the creative power of God goes forth to accomplish that which He desires. That is why I believe that when the healing Scriptures are spoken in Hebrew it makes an imprint, not only on our mind, but also on our cellsfor we are made of dust (sand).
This is the glorious focus the Lord is directing us in with music and the spoken Word of God for such a time as this! It is the understanding of this "Quantum Faith Science," which God is granting to us with sound, frequency, vibration and the manifestation of matter. It has to do with creationism, the formation of entire planetary solar systems being created by the sound of the voice—God's Word!

As I continue to compose and perform, I pray for the anointing of Godto play the Master's pieces in celebration of freedom, with the expression of our Father's love and His healing heart, and in an explosion of vibrancy and joy that hits the DNA with God's frequencies. For I truly believe that the next major revival will be the restoration of the Father's love and that it will spread throughout the whole world. Notes carry frequencies and our DNA picks it up at the cellular level and we are impacted by the creative power of God through sound as He gives the music from heavenly realms. This is what Hans Jenny discovered—that there is power in the Hebrew language for frequencies to imprint the very DNA and atoms of our bodies. God originated His Word in Hebrew and now we are seeing the impact in healing our souls and bodies, and refreshing our spirits.
Visit A. and J. Ryab's web site at www.songofisrael.com.
Dear Mishpochah,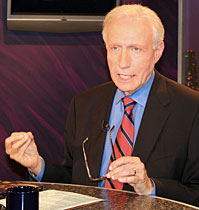 Many times in history, God has used the evil intentions of people to accomplish His purposes. One example is when the selling of Joseph into slavery resulted in the preservation of Israel. Another is when Haman tried to destroy all the Jewish people, but instead the Jewish people won a great victory that brought a great revival among the Gentiles (Esther 8:17).

What will happen when the modern-day Haman, the President of Iran, tries to nuke Israel? God will use this to birth a great Jewish revival that will be the catalyst for the greatest Gentile revival in history.

I see Queen Esther as a type of the end-time church. And I proclaim to you Esther (church): "You have come to the kingdom for such a time as this" (Esther 4:14).

Last month we cracked open bold new evangelistic doors. We aired a
one-hour prime time Jewish evangelistic special on a large secular television station covering Miami and
Ft. Lauderdale, Florida.

Then I signed the biggest contract of my life. On January 22, we started airing on the Spike television network. Spike reaches into 90 million United States homes. Although this network targets men (it is one of the top ten cable networks in all key male demographics and features much raw programming), it now boasts a 45% female viewership. How would you like to see the reaction as someone tunes into this "raw," secular network and gets an uncompromising clear demonstration of the power of God and instructions on how to have intimacy with God through Jesus? This is the purpose of It's Supernatural!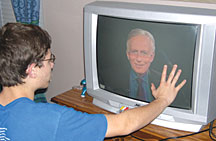 Last month we got this e-mail from one of our viewers. I can imagine this scene multiplied many times over from our secular TV specials and our new secular TV network, Spike:
I am ecstatic! We just finished watching the Messianic Vision program with Frances Hunter and when Sid asked the viewers to come over and touch the television screen to receive the healing anointing, our teenage son, Daniel, whom G-d has been working with lately, stood up with no shame, walked over to the TV and grabbed the television screen to receive the anointing. Then when Sid asked viewers to tell Yeshua that you accept Him as your messiah, Daniel closed his eyes and said that prayer! Then Daniel turned and asked me to order the healing book! Words cannot express what Sid Roth's obedience to G-d has done for our family.…This wonderful ministry is changing lives! —M.H.
In the book of Esther, which is read during Purim, the last sentence tells why Mordicai had such supernatural favor. He was elevated to second in command of the nation because he was always "seeking the good of his people [the Jewish people] and speaking PEACE to all his kindred" (Esther 10:3). The foundation of this blessing is found in Genesis 12:3. God promises to bless those who bless the Jewish people.

The greatest PEACE available is to know the Prince of Peace, Yeshua. Because you are praying for us and partnering to make Him known, I can command the blessings of God from Genesis 12:3 and Esther 10:3 over
you and your house. We are family and share alike on rewards night in heaven.

Paul said, "For if their [Jewish people] being cast away is the reconciling of the world [salvation of the Gentiles], what will their acceptance be but life from the dead?" (Romans 11:15). "Life from the dead" means a release of supernatural power to the church."Life from the dead" means the birth of the One New Man, which will be the catalyst of the greatest revival in history. "Life from the dead" means the return of Yeshua! In Matthew 23:39, Yeshua said to the Jewish people: "You shall see Me no more till you say, 'Blessed is He who comes in the name of the Lord!'"

By partnering with me in the boldest evangelistic thrust I have taken in our 30-year history, we are preparing the way for the return of the King of the Jews, YESHUA!
Shalom and Love,


Sid Israel Roth
Unless otherwise indicated, Scripture taken from the New King James Version. Copyright ©1979, 1980, 1982 by Thomas Nelson, Inc. Used by permission. All rights reserved.
Title
March 2007 Newsletter