Signs and Wonders Or Messiah Crucified?
by: Lonnie Lane
Does Jews asking for signs and
wonders make seeking signs and wonders contrary to the Gospel message? Asked
that way we would all probably say, of course not or Yeshua wouldn't have been
doing signs and wonders. Yet, Paul said, "For indeed Jews ask for signs and
Greeks seek for wisdom; but we preach Messiah crucified" (1 Cor.
1:22). It sounds like a contradiction to be looking for signs or wisdom,
doesn't it? But obviously it's not because Yeshua performed miracles all the
time and every word out of His mouth was wisdom. A woman, a Jewish believer for
many years, wrote and asked about this very thing, isn't it the Gospel message,
not the signs and wonders, that reveal the true "power of God and the wisdom of God?" (Mark 16:17). The question she
is asking then is whether the emphasis on the miracles in Sid's shows isn't the
opposite of what God is saying in the Scriptures.
We
couldn't agree with her more that the foundation of our "preaching" must be
Messiah and Him crucified. While the shows are called "It's Supernatural" and Sid is interviewing people who have
experienced supernatural "signs" and "wonders," the Gospel of repentance and
salvation is preached on every show. There is always the emphasis on coming to
know Yeshua by repenting and turning from sin and receiving His forgiveness
because His blood has paid the price for those sins. So you needn't worry that
the shows are ignoring what the true Gospel is all about. While the signs and
miracles are captivating, the central theme of every show is Yeshua as Messiah
and Savior, and Redeemer.
…especially among Jewish people "because the Jews require a sign."

On the other hand, Yeshua did signs and wonders all the time — and yes, especially among
Jewish people "because the Jews require a sign" (1 Cor. 1:22). There were people being healed daily, it appears, and even being
raised from the dead on occasion. Do you recall when John the Immerser sent
word from his prison cell to Yeshua to ask if He really was the Messiah?
Undoubtedly he didn't expect to be imprisoned when the Messiah came on the
scene and he was perplexed at the way his life was going. Therefore, "summoning
two of his disciples, John sent them to the Lord, saying, "Are You the Expected One, or do we look for
someone else?" When the men came
to Him, they said, "John the Baptist has sent us to You, to ask, 'Are You the Expected One, or do we look for
someone else?'" I love
how Yeshua demonstrated who He was rather than just tell them. "At
that very time He cured many people of diseases And He answered and said
to them, "Go and report to John
what you have seen and heard: the blind
receive sight, the lame
walk, the lepers are
cleansed, and the deaf
hear, the dead are
raised up, the poor
have the gospel preached to them" (Luke 7:18-22).
Wow, how often
have our church services or our street outreaches had all those kinds of signs
and wonders going on? How awesome must it have been to be with Him and not just
see all those miracles happening, but having whatever you needed happen to you
or to someone you love. The reason
Yeshua presented it like that, giving the list to John's disciples of what had
just happened is because the Jewish writings indicated that the way they would
know when the Messiah would have come is that those miracles, those signs,
would be carried out by Him. No one had ever brought sight to a blind person,
or healed leprosy – those were prerequisites for declaring the Messiah was in
their midst. So in the actions and the statement Yeshua, through the signs and
wonders, was claiming to be the Messiah.
Additionally, His message was
continually about the Kingdom of God, or the Kingdom of Heaven which is saying
the same thing. The Kingdom means wherever He was. How often did He say, "The Kingdom is like…" not will be like. He spoke in the present tense about the
Kingdom. And He would tell a story, a parable, to give insight into His
Kingdom, and then He would heal people of all kinds of diseases or deliver them
from demons because in His Kingdom there is no sickness and no demonic
oppression or depression. He was modeling what would ultimately be the fullness
of wellbeing, that is to say Shalom in its complete meaning, in His Kingdom.
How do you get sick people well? (This isn't a joke or a riddle, I promise).
You heal them by the power of the Holy Spirit. How do you get a blind person to
see? Same answer, by the power of the Spirit of God. All the healing and
restoring of broken people was also a precursor to when He comes again and set
up His eternal Kingdom where there would be no sickness, no deformity, and
everyone will be entirely whole. That is the will of the Father.
Since Yeshua never did anything
unless He saw His Father doing it or heard Him tell Him to do it, it was God
the Father who instituted all those healings. There are instances where the
Scripture says, "One day He was teaching; and there were some Pharisees and teachers of
the law sitting there, who had come from every village
of Galilee and Judea and from Jerusalem; and the power of the Lord
was present for Him to perform healing" (Luke 5:17,
my emphasis). Yeshua couldn't have healed one person
if it didn't come from on high…. and neither can we. Any signs, wonders or miracles that take place come from the
Father in the power of the Spirit.
The fact is, the
healings were very much what gave the people the revelation of who He was/is
because who else could do those things? As Nicodemus said early on, "Rabbi, we know that You have come from God as a teacher; for no one can do these signs that You do unless God is with him" (John 3:2). It
stands to reason then that the Jews would be looking for the signs to verify if
He was the Messiah or not. Yeshua didn't seem to find fault with the people when
they connected the signs with who He was, though for some, to just have their
ears tickled or to want to see the sensationalism of the miraculous signs without
any interest in knowing God nor were they feeling any unction for repenting,
that was another story. Such may well have been the case for Paul's audience
when He said he would only "preach
Messiah and Him crucified" because elsewhere Paul said, "My message and my preaching were not in
persuasive words of wisdom,
but in demonstration of the
Spirit and of power" (1 Cor. 2:4). What else could that mean by signs,
wonders and miracles? When that was the case, Yeshua was unlikely to perform
any miracles then either because an attitude like that is devoid of faith and
faith is the currency to make things come to pass with God. It happened in His
own home town, the place where He grew up. They couldn't see Him beyond what
they'd always known Him as. Beware of stereotyping someone based on how you've known
them before. God may get hold of them and completely change their lives and you
don't want to miss that in the way the folks from His home town did.
Knowing what the
rabbis had declared must take place for anyone to be even considered the
Messiah, there had to be specific miracles. The Pharisees had to know that, but
without repentant hearts or a fear of God, rather than capitulating to Him, "they were
seeking to seize Him; and no man laid his hand on Him, because His hour had not yet come" (John
7:30). But that wasn't the whole story. "Many of the crowd believed in Him; and they were saying,"When the Messiah comes,
He will not perform more signs than those which this man has, will
He?" (:31). Imagine
the excitement on that particular Passover when thousands of Jewish people would
come to Jerusalem for the Feast even from other nations and this took place: "Now when He was in Jerusalem at the Passover, during the Feast, many believed in His name, observing His signs which He was doing" (John 2:23). It was the signs that caught their attention and
caused them to listen to what He had to say.
It was the signs that caught their attention and caused them to listen to what He had to say.

So Yeshua never faulted the Jewish people for being blessed
by the signs and miracles. In fact, when He gave His last orders to His
apostles, these were His instructions: "And He said to them, "Go into all the world and preach the
gospel to all creation. He who
has believed and has been baptized shall be saved; but he who has disbelieved
shall be condemned. These signs
will accompany those who have believed: In
My name they will cast out demons, they will speak
with new tongues; they will pick up serpents, and if they drink
any deadly poison, it will not hurt them; they
will lay hands on the sick, and
they will recover" (Mark
16:15-18 my emphasis). That sounds like signs and wonders, doesn't it?
It was not long
though before His followers lost the power of the Holy Spirit and signs,
wonders or miracles were
no longer taking place. One can only deduce that the Holy Spirit had withdrawn
due to the many changes that had been taking place in the church. With the lack
of correction for things introduced into the church outside of God's sanctioned
instructions, the Holy Spirit backed out of the scene. No more need for Him,
men and their ways had taken over. God is a gentleman and will not interfere
where He's not wanted. He gave mankind free will to choose Him or not and they
made many choices that resulted in the signs and wonders quickly dying off.
This is
addressing the issue of signs and wonders from a somewhat different angle, but
there was practically no healing in the church since the 4th century
on except on very rare occasions. The church got so used to being miracle-less,
that a doctrine was developed that stated that God just doesn't do healings and
miracles any more. What a lie from the pit of hell that is. "Messiah
Yeshua is the same yesterday, today and forever" (Hebrews 13:8) so how
could that be the case? The lady who posed the question above was concerned about
eisegesis which means to take Scripture and build a case that
is not in the text. (Exegesis is to elaborate on what the text really
says). To say that God does not do
any signs or healings anymore is a case of eisegesis, because no text in the Old
Testament or the New suggests they came to an end after the first century
apostles passed away. That would be an erroneous doctrine. Such doctrines come
about when the church devises justification for their lack of Biblical experiences,
like healings or speaking in tongues, or prophecy, etc., rather than go to God
for Him to show them why they aren't experiencing what's in the Bible.
But
— Glory be to God — today the Lord is restoring the power of the Holy Spirit
back to His people, including the power to perform miracles. God is restoring
to His people Yeshua's instructions in Mark 16 listed above. It's not yet
happening everywhere but I expect that before Yeshua returns, His bride will be
instruments for the Holy Spirit to work through in the same way He was. I say
that because when Yeshua was here He operated in prophecy, as a healer and
miracle worker, as Someone who had words of knowledge and words of wisdom, and
as Deliverer. And when He asked the Father to send the Holy Spirit, He did so
and all that Yeshua was able to do was then the preview (the extent or range of function, power, or competence) of the church. As
He was, so were they in the earth. We are, after all, His Body, and He is the
Head. Doesn't your body do what
your head decides or thinks? He
wants His people healed, whole and full of hope, as well as functioning under
the power and unction of the Holy Spirit. He did say we would do greater things
that He did. How could we possibly do that without signs, wonders and miracles?
Reprint of this article is permitted as long as you use the following; Use by permission by Messianic Vision, www.sidroth.org, 2012.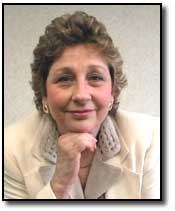 Scripture quotations are from the New American Standard Bible Copyright ©1960, 1962, 1963, 1968, 1971, 1973, 1975, 1977, 1995 by The Lockman Foundation, La Habra, Calif. All rights reserved. Used by permission.
---