One New Man – In Africa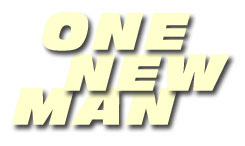 One New Man – In Africa
by Lonnie Lane
It's erev Yom Kippor as I write, the evening of the beginning of Yom Kippor. And I'm in Nigeria. It's raining tonight. The sound on the roof is comforting. It's been hot as the rainy season is coming to an end. The rain cools it off. Sitting in the parlor of the somewhat grand house by Nigerian standards, undoubtedly built by the British at some point, my Israeli Friend Michaella Lazarus plays Israeli melodies on her flute as those of us who know them sing along. The others listen contentedly. The rain, the flute, our voices peaceful as we also thank the Lord that we are atoned for by Yeshua this Yom Kippor evening, that our sins are utterly forgiven and we are at peace with the God of Abraham, Isaac and Jacob. Even here in Africa.
We are here because my brother, Michael Lane, and I, along with a few others were asked to speak at a pastor's conference at the West African Advanced School of Theology. We agreed to go before we realized we'd be away from home from the day after Rosh ha Shana to the day after Yom Kippor. Praying about it, that the conference was taking place during the Ten Days of Awe seemed somehow significant to the purpose of the conference. And so off to Africa we went, along with a few others who traveled with us.
I'd been asked to bring another woman to speak at the conference. Despite knowing various other women who could have carried the task, the only woman who kept coming to mind was Michaella, someone I hadn't seen for almost 8 years but with whom I'd kept in e-mail touch periodically. Michaella with her husband David have been leading a Messianic congregation in Jaffa (Joppa) for over 20 years. I emailed an invitation to join us. After praying about it, she and David felt she should come. It proved to most assuredly be the Lord's will to have her with us.
When our flight arrived in Lagos, the capital of Nigeria, we were met by our Nigerian friend who had arranged the trip and were taken to this same house for the night. In the morning we drove to a local airport where we caught a smaller plane to Owerri in the north where the conference would take place. While Lagos was not what you'd call a thriving metropolis, the poverty in Owerri is everywhere and impossible to ignore.
Dusty dirt roads with large potholes and deep muddy puddles were unavoidable. Nigeria is home to 125,000,000 people and is only the size of Texas. People are everywhere, as are buses and trucks in various states of disrepair and motorbikes which often carry entire families balanced on them, babies tied to their mother's backs bringing up the rear. The motorbikes also serve as taxi cabs. There are basically no stop signs or street lights. Everyone weaves in and out as best they can to gain a few feet. Traffic jams are a way of life.
I cannot adequately convey in this writing the way people live and the kind of commerce that takes place in Owerri just trying to survive. Six tuber-like yams would not constitute a business for Americans but for the woman who dug them up and set up shop along the road on a rickety and ancient table, it's a livelihood. Not everyone is that poor, of course, and many seem well dressed and clean, traveling purposefully on the motorbikes and overcrowded buses. At 9:00 am it seems like everyone is on their way to work somewhere.
But the reason for this writing is not to tell you of the economic conditions of the people but the spiritual. Suffice it to say that in the midst of what they have to deal with, I saw the Lord in their countenances, in their relationships, in their love for us. Yeshua too seems to be everywhere. Verses or prayers are painted on the buses, such as "Lord, shelter me from the storms" or the names of businesses on the trucks might say, "Praise the Lord Motor Repairs" or "His Mercies Are New Daily Vegetables." Signs announcing churches were visible every 50 feet or so, though we were unable to discern just where the churches were meeting. Further from the city there were fenced in open areas designated as churches. The absence of seating leads one to expect people would crouch or sit in the dust or stand. Low overhead church, you could say.
Yet we were struck with how much more freedom of religion these folks have than Americans. It brings up the question of just what success or progress really is. With all the stress of the crowded streets, I witnessed only one argument. Rather people seem to defer to one another, even in the mad scramble to get to where they're going. Our experience with the people was one of cordiality and warm welcoming. Hand shakes came with a slight bow and a "God bless you." That there is such freedom of religion was brought home to us especially while enjoying a good chicken dinner in a restaurant to the sound of (American) praise music over the speakers.
With all this Christianity everywhere, why did we need to be there to bring them more, you may ask. What we came to bring them was a vision for One New Man (Eph. 2:14, 15) and an awareness of what Israel should mean to them as Believers. It has been said that if you truly love the Lord, you will love what He loves and that certainly includes Israel and the Jewish people. We found that to be so among these dear people. When Michaella asked if there were any who pray for Israel we were pleased to find that there was a group of students that meets weekly to pray for Israel.
When she began to spontaneously sing a Hebrew song she had written at the end of the session of prayer for Israel, since the worship team members take Hebrew as a class they were able to join right in with her and sing along, understanding what they were singing-. They wound up taping it so they can be sure to learn it well and the Hebrew teacher asked me to write the words down in Hebrew so he'd have them for them. They intended to put this new version of "Baruch ha ba" in their repertoire, now that they understood the significance of the words welcoming Yeshua back. Now they could use the song for intercession for Israel.
The conference was entitled, Our Heritage in Messiah, and our messages brought to them the Hebraic foundation of Christianity and why it's important for them as Gentiles who have little or no Jews in their lives, though they assured us they knew one who lived in Owerri. We asked to meet him but never did. May the Lord save him. Amen. We shared with them how the first century believers who turned the Roman world upside down for Yeshua had a revelation of God based on 2000 years of experiences with Him. When Yeshua (Jesus) came, He came as the fulfillment, the embodiment of Torah; the Word of Torah and the prophets became flesh.
We discussed with them how important it would be to know what's in Torah in order for God to write it on their hearts. To become familiar with just what it is that Yeshua fulfilled is to come to know Him so much more deeply. To know the Torah and the prophets from a Hebraic perspective is to see the Bible as He saw it, and as He fulfilled it. We talked about family values and how God provided in Torah for how the community of God should live and treat one another, and of the peace that comes from a community which keeps the commandments by Grace. With each session they seemed to 'get it', to grasp what we were sharing with them, and got more and more excited about it.
Michael taught on the feasts of the Lord and how Yeshua fulfilled each one and how each feast gives a picture of God's redemptive purposes in His plan for mankind. Following the idea of Yom Kippor and atonement and forgiveness led to my sharing about the necessity of forgiving others. Having been told of tribal bitterness that still remains over the generations, I could see the conviction on many faces as I spoke. I led them in a time of repentance and forgiveness and prayed for God to then release the blessings and reconciliation of the God of Abraham, Isaac and Jacob upon them. Many seemed deeply touched, especially some of the older pastors who are likely to have had more tribal incidents in the past.
In between sessions we would have our meals at the home of the School director's home, being shuttled back and forth in a nice comfortable van, though the air conditioner give out on the third day there. One afternoon on the way back to the school after lunch while inching along in the traffic we passed a rather large man wearing pale pink silky looking African attire which came to his knees like a dress and then matching pink pants beneath. He was carrying a seriously lethal looking rifle, not something you shoot at squirrels with.
I thought the folks back home would find the juxtaposition of the pink and the gun of interest and so wanted a picture of him. The flash apparently caught his attention. He was not happy about his picture being taken and suddenly he was upon us, rifle in hand, quite angry and demanding my camera. I was not about to give him my camera, not knowing who he was. I thought I could stand him down. I wasn't about to hand over my new digital camera to some guy in pink, rifle or not. As it turned out, he was a police officer. Uniforms apparently are optional.
Another policeman, this one in uniform, materialized on the other side of the van, also demanding my camera. I finally threw it toward the man in pink as I was on the other side of the van from him, surprising myself at my indignation in being forced to do this. He didn't catch it and it wound up in a puddle, making him even angrier. By this time a substantial crowd had gathered around the van to see what was going to happen. When the camera was retrieved from the puddle he wanted me to hand over the film which he assumed I had removed from the camera. We then all tried to explain to him that it's a digital camera and has no film and that you have to attach it to a computer to down load the photos.
This made no sense to either of them and the man in pink opened the van door and got in, rifle and all, and ordered us to the police station. The other man, now in his police car, ushered us through dusty-road villages of tiny tin and thatched roofed houses until we finally arrived at the police 'station'. Several small stucco buildings which seemed to have little in them comprised the station. A number of miscellaneous people, a small flock of black goats and a few chickens seemed to be part of the station as well, milling around outside under the trees.
We were ordered out of the van and into the first building. A man sat behind a small table and listened to the man in pink tell the story, then proceeded to go through with me a number of times where the film was. He obviously didn't believe any of us, including my brother, who stood supportively by my side. They would not let us call the Director of the School. I finally decided I needed to take a different approach and apologized for offending them, and for not realizing he was a security officer.
In the mean time, Michaella was outside with the miscellaneous people scouting around for who just might be a Believer or who needed to be. Though none of the people were in uniform all turned out to be policemen or women. "Do you know Yeshua?" I heard Michaella asking through the open (glass-less) window of the office. Finally it was decided that I had to write out a statement that my intent was not to use the photo against the man in pink or for, as best as I could figure out, any international espionage.
I was taken to the last building, walking through a few nannie goats and their babies to get there and seated at another small table where yet another man proceeded to create a form for me on the one piece of paper they were able to find, drawing lines with a ruler and a pen. On one side of the page he wrote: Name, address, nationality, tribe, age, reason. The other side I was to fill out. I thought about writing "Levi" for tribe but figured that would cause even more confusion. I enjoyed the thought though. Having written out my statement we were released and told to come back the next day for the camera. "Why not give it to me now?" I asked. "Tomorrow" was the answer. "One o'clock." I was told later by those familiar with police dealings that since we didn't offer a bribe for the camera he figured we didn't have money with us but we would bring some tomorrow.
By this time Michaella had made friends with the basically friendly police outside. We piled back into the van and as we pulled out, Michaella leaned out the window calling, "Bye, I love you guys." They waved back in obvious agreement. We never did go back for the camera, not able to find the same driver who took us there. I gave the camera case to one of the students who'd been taking our pictures with the enthusiasm of the Pavarotti and wrote him a note to the police to give the camera to him. Hopefully it's now safely in his hands.
It seemed clear by the third day that those attending the conference were grasping that one of the best ways they could get God's attention to bless their nation which is greatly in need of being blessed in many ways is to be a blessing to Israel according to Genesis 12:3. Their prayers already revealed their love for Israel. We felt the bond had been created. What the pastors and students didn't know is that Michaella and David's congregation in Jaffa, many of them new olim (immigrants) to the Land and some without jobs, had taken up a generous offering of $2000 to give to their African brothers and sisters where it was needed most.
Michaella felt the Lord leading her to give it to the Theological College. It was then we learned from the Director when she gave it to him in a little presentation we did in his office that the funding that keeps the College running had not come in and they were seriously lacking in funds at this time. But God had it in control. We all marveled at how God did that, weaving His people together and providing for one work through the generosity of another group in a different part of the world. Perhaps God had already blessed them because they opened their doors and their hearts to Israel and the Jewish people.
At the conclusion of the conference they swarmed all over us, thanking us for coming, shaking our hands, hugging and blessing us. Rarely have I felt so appreciated. We left with the sense that we had presented the message God had sent us to Nigeria to deliver, that with Israel and the Jewish people we all are together One New Man.
Heading back to Lagos after the conference, tired but with a sense of accomplishment, we awaited our flight back in a clean but sleepy airport. We'd been there only a few minutes when a familiar voice wafted through the air and a recording of Paul Wilbur's "I lift up My Eyes to Jerusalem" bathed us in familiarity. Here in Nigeria God was already at work bringing the message of Israel. He had obviously prepared their hearts. No doubt Paul's music went ahead of us to do so.
The world got smaller that moment and there in Africa in a remote airstrip I felt as if we were all a part of a great Divine Team circling the earth with the message of the Lord, all who are His as One with a similar song of the Lord in our hearts. When we boarded the plane and it lifted us above the African landscape. Thinking about all the wonderful people we'd just met I marveled at how much you can love your brothers and sisters in the Lord when you'd only met them 5 days earlier. I wanted to lean out the plane window and shout "Bye, I love you guys." I settled on praying for them instead.
Lonnie Lane comes from a family of four generations of Jewish believers, being the first one saved in 1975. Lonnie has been in church leadership for many years, and has planted two "one new man" house fellowships one with her brother Michael Lane in the Philadelphia suburbs and the other in Jacksonville, Florida, where she now lives near 6 of her 8 grandchildren. Lonnie is the author of "Because They Never Asked." She is the Producer of Messianic Vision's radio and TV shows and the International Prayer Co-Coordinator for Messianic Vision's intercessors.
---