Need An Oil Change? (part 1)
by Sue Towne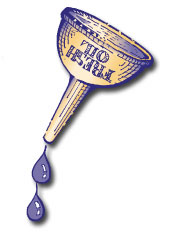 This month we begin a new series of articles by Sue Towne, Messianic Vision's International Intercessor Coordinator.
I feel impressed to write to you about Zechariah chapter four. This chapter centers on a vision given to Zechariah during an angel's visit. The chapter begins with Zechariah seeing a huge menorah—a seven-branched golden lampstand. At the end of each of the seven branches is a golden oil lamp. On each side of this menorah stands an olive tree, hooked into the menorah to continuously provide olive oil to fuel the lamps.
Zechariah asks the angel to explain what "these" are (probably referring to the olive trees). In answer, the angel gives him a word from the LORD. As we go further in this chapter, let's substitute the name "Yahweh" when we see "LORD" in our Bibles. This will be a more accurate translation from the Hebrew. So, the angel brings a word from Yahweh: "'Not by might nor by power, but by My Spirit,' says Yahweh of Hosts." And he continues, "'Who are you, O great mountain? Before Zerubbabel you shall become a plain! And he shall bring forth the capstone with shouts of "Grace, grace to it!"'"
Now, Zechariah and Zerubbabel were contemporaries. They are named in the books of Ezra and Nehemiah. Zerubbabel was a leader helping Ezra rebuild the Temple in Jerusalem. The task of rebuilding the Temple in Jerusalem was difficult; the city was in ruins, the neighbors were hostile, and the resources were scarce. The project must have looked like a mountain to Zerubbabel at times. But God gives Zerubbabel this encouragement: this mountain will be as a flat place before you. This difficulty will be as nothing. Grace will bring you through this magnificently.
That's a good word we can receive also. But let's dig a little deeper. Zerubbabel is famous for something else: he is one of Yeshua's ancestors. I believe that this passage in Zechariah 4 is more than just a word of encouragement for Zerubbabel. With all the references to oil in this passage, I believe that this word is telling us about the coming ministry of Messiah, Zerubbabel's descendant. Beginning in verse 9 of chapter 4, let's substitute the name "Yeshua" for "Zerubbabel" and see what we get.
"The hands of Yeshua have laid the foundation of this [house]; His hands shall also finish it. Then you will know that Yahweh of hosts has sent me to you. For who has despised the day of small things? For these seven rejoice to see the plumb line in the hand of Yeshua. They [seven lamps] are the eyes of Yahweh, which scan to and fro throughout the whole earth."
This passage from Zechariah reminds me of several New Testament passages about Yeshua. Hebrews 3:3-6 speaks of Yeshua as the builder of God's house. Ephesians 2:20-22 speaks of Yeshua being the cornerstone of the foundation of God's house. Likewise I Peter 2:6-7 quotes Psalm 118, equating Yeshua with the cornerstone of the house of God. Yeshua is the foundation stone of God's house and the builder of it, even as Zerubbabel laid the foundations of the Temple in Jerusalem and continued working on it until it was finished.
Next month we'll see where all the references to oil lead us. But for now, let's keep seeing those mountains before us and before Messianic Vision as plains.
—Sue Towne, Messianic Vision International Prayer Coordinator
Scripture marked NKJV taken from the New King James Version. Copyright ©1979, 1980, 1982 by Thomas Nelson, Inc. Used by permission. All rights reserved. Emphasis added.
---