Love and Passion for God
Love and Passion for God
by Lonnie Lane
"Is it possible to have faith in Yeshua and be saved, but there be no love on the professing believer's part for God?" This was a question that was emailed to me this week which sent me on a Scripture search to see what the Lord would have to say. We need to look at this from a Biblical perspective as well as the emotional aspect both are important.
Obviously there is someone behind this question who feels no or little emotional love for God, yet considers themselves a believer. Yeshua said, 'If you love Me you will keep my commandments" (John 14:15). The issue here is not about feelings, but obedience. If we value His Word above whatever else might be attractive to us, and make the choice to follow His word, He considers it as loving Him. As we know, love is Biblically defined this way: "Love is patient, love is kind and is not jealous; love does not brag and is not arrogant, does not act unbecomingly; it does not seek its own, is not provoked, does not take into account a wrong suffered, does not rejoice in unrighteousness, but rejoices with the truth; bears all things, believes all things, hopes all things, endures all things. Love never fails" (1 Cor. 13:4-8a). Are these emotions God is asking us to feel? Or are they choices we are to make of how we will conduct ourselves in our relationships? As I see it, these are character issues, not emotional ones.
I encourage you not to skim through those words but to think about how each manifests in your own life. You might be pleasantly surprised. After all, the Spirit of God does live in you if you are living for Yeshua. The fruit of the Spirit should be evident in your life, which would be: love, joy, peace, patience, kindness, goodness, faithfulness, gentleness (and) self-control" (Gal. 5:23). Some Greek scholars believe that the word "love" was actually the title and what follows are descriptions of how love is manifested. So maybe you're not "feeling" love or lovingly toward the Lord but you try to conduct yourself as a person who is kind and patient, faithful to your family and friends, you don't wig out on them having lost your self-control, and you generally just want to be how you know Yeshua would want you to be or better yet, how you see Him as being because He's your standard for how to live your life. I believe He'd say that equates as love. So long as He's the reason you choose to live that way, that's love, despite any lack there may be of feelings.
But now, I ask you, do the Galatians 5:23 qualities above line up with some of what is characterized as love in our society today? Before I began writing this I read through today's NEWS clips that greeted me on my computer screen this morning. From international news to gossip expose's, it read less like the above love-list and more like this: "Now the deeds of the flesh are evident, which are: immorality, impurity, sensuality, idolatry, sorcery, enmities, strife, jealousy, outbursts of anger, disputes, dissensions, factions, envying, drunkenness, carousing, and things like these, of which I forewarn you, just as I have forewarned you, that those who practice such things will not inherit the kingdom of God" (5:19-21). We are not necessarily surrounded with images that come from the Kingdom of God, are we? A lack of love could be from filling our minds with unclean things that grieve the Spirit of God so He backs away and you can't feel His presence.
If we value His Word above all else, and make the choice to follow His Word, He considers it as loving Him.

Another fairly common cause for not "feeling" love for God is that there are people who have been so beat up in life and so betrayed that their internal emotional 'lover' doesn't work very well. They may be shut off in their emotions but still value Yeshua and His Word as supreme in their lives. For those who have suffered rejection, never given the sense that they measured up, and were always lacking approval, they are likely to feel that they don't love Him enough and their love for Him is inadequate. So I ask you, how much would be enough? If we continually measure our love for Him on an emotional scale, even though our life is entirely committed to Him, we will never feel as if we really love Him enough. I can have a commitment to the Lord, no matter the cost, and still not feel all yummy inside about Him. Granted it is much more rewarding to have those feelings, and I can understand being jealous of those who do. Our love for God is not determined by feelings but by obedience and commitment, based simply on faith in who we know Him to be! That to God is love.
God alone knows what each of us has been through and what our "love quotient" is. One woman I know was anguishing because she didn't feel love for Him others professed to have, nor did she feel she had the faith other women she knew seemed to have. The Lord in His ever-tender way, spoke to her heart and let her know that the other women hadn't had to deal with what she had to. She had a father who was violent while her mother was too sick to be there for her. She had a husband who cheated on her and finally left her. Consequently, her ability to love and trust anyone, including God, wasn't recovered yet. On the outside this woman looked like a successful Christian she had learned how to carry herself so that she projected an "I'm okay" persona but inside, she felt greatly inadequate in her ability to respond to the Lord. In time, God did heal her so she could fully enjoy loving God and she was able to totally trust Him, but it took time and repeated opportunities to learn that God is faithful to be there and can be relied upon entirely. It was a process. Such a healing is not about just gaining information such as "God is love" but about tried and found-to-be-true experiences with God. The fact that this woman wanted with all her heart to be able to emotionally love God proved that in her heart of hearts she already did love Him, even if she wasn't feeling she did. He was the desire of her heart even though her emotions didn't register it as love. Her will was to love Him and today she can say she loves the Lord.
I think God is greatly pleased with the kind of love when someone hangs in there with Him and remains faithful to Him despite not having the backup of their emotions. God will work through the rejection people may struggle with. Since He knows each of our hearts, He reads what our choices are for Him or not. He can see into our spirits, while we are likely only to see what our souls project and they can be pretty damaged. In the natural, we may want to respond to the damage in people's souls, or act out of our own damaged souls. But if Yeshua is always patient, always kind, and does not keep a record of our wrongs, we as His followers can do the same, or we're operating out of another spirit. Thank God there is always ongoing healing and sanctification in our lives.
Often when someone doesn't feel they love God, or love God enough, there's some condemnation coming from the enemy if they are really attempting to follow the Lord. Living from legalism can also cause people to feel like they don't love God, or love Him enough, because they are focusing on their own behavior and measuring themselves against a law He isn't requiring. So it's not Him really they are attempting to follow, but a misconception of Him. He doesn't require legalism. He came to free us from it. Rules of 'you-have-to' or 'you-better-not' result in a feeling of futility which don't exactly make for lovey feelings, do they? That's a door that needs to be closed so they can find the Shepherd of their soul welcoming them into His loving care.
God is greatly pleased with the kind of love when someone hangs in there with Him and remains faithful despite not having emotion.

The Bible tells us, "We love (Him) because He first loved us" (1 John 4:19). It may be that if we feel as if we don't love Him, we just don't know how to accept being loved like He loves entirely and completely. For some, that's very threatening. If we've had experiences with abuse or oppressive relationships, we may be quite threatened by the closeness and all-knowingness of God. Our boundaries and walls with which we've tried to protect ourselves aren't needed with God as He will never harm us, but it takes a while for some to find that out. When we've suffered from an unloving spirit of any kind, it can be hard to believe that we're really loved like that, even by God. But unbelief never got us anything with God. If we're believers, then we need to believe that He loves us. Again, it's a choice. Faith is often a choice to accept as fact what we know to be true, even if our feelings jump up and down and tell us otherwise. The fact is, He loved each of us enough to lay down His life for us way before we ever knew Him. Besides, we didn't really choose Him, Abba chose us: "He chose us in Him (in Yeshua) before the foundation of the world, that we would be holy and blameless before Him in love" (Eph. 1:4, my emphases). If you want to pick one verse to get you through, this would be a good one. It's pretty all encompassing, from eternity past to eternity future, if you will.
Now if He chose us before the foundation of the world, it can't have anything to do with whether we are worthy or how our emotions enable us to "feel" love can it? Our job is just to believe that we are loved by Him according to His definition of love, and to keep His commandments. Yeshua showed us that obedience is about grace, honor, willing hearts and making Him our first priority in life because …well, because He's Him!! My interpretation of this "love Him and keep His Commandments" connection is not that I prove to Him that I love Him by keeping them. I might be able to keep them outwardly while my heart would not be in it. Hearts are what He's all about, not performance. I think what He meant was we will naturally keep His commandments, because He has written them on our hearts, as in: "I will put My law within them and on their heart I will write it; and I will be their God, and they shall be My people" (Jer. 31;33). A heart equates with loving, doesn't it? You'll just want to do what His Words say because you know they are right and you want nothing to come between you and Him that's love!
Permit me to introduce a whole other possibility as to why someone might not be experiencing what they expect love for the Lord should feel like. Before I go any further, let me say that I do know the deep longing for more of the Lord that can take hold of your soul so much that nothing else will do but knowing Him more than you already do and desiring to experience His presence in greater measure. This is of the spirit, not of the flesh. However, we live in a very sensually stimulated society. There is sensual input everywhere including in our worship of the Lord sometimes. Consider that the word "passion" has now been "Christianized" so that we use it to express a great burning drive or intense longing for the Lord or something related, like our ministry or calling. "I am passionate about…." The word can be used to mean a fervent, enthusiastic, intense or vehement desire, but the word has come to mean something that is contrary to how the Bible uses the word. Actually, the word "passion" in the Scriptures is always used in the negative as something you need to gain control of. For instance:
"A tranquil heart is life to the body, but passion is rottenness to the bones" (Prov. 14:30).

For they exchanged the truth of God for a lie, and worshiped and served the creature rather than the Creator, who is blessed forever. Amen. For this reason God gave them over to degrading passions. (Rom. 1:25, 26).
For while we were in the flesh, the sinful passions… were at work in the members of our body to bear fruit for death" (Rom 7:5).
Now those who belong to Messiah Yeshua have crucified the flesh with its passions and desires" (Gal. 5:24).
For while we were in the flesh, the sinful passions… were at work in the members of our body to bear fruit for death" (Rom 7:5).
Therefore consider the members of your earthly body as dead to immorality, impurity, passion, evil desire, and greed" (Col. 3:5).
And then there's the use of the word "passion" to describe Yeshua's agony on the cross, because the word "passion" actually refers to some form of suffering. But if we think that we are supposed to be feeling some kind of passion for the Lord, some burning desire that won't let us rest until we have some kind of experience with Him, as some of the 'worship' songs we sing may convey to us, we just may feel as if we are lacking what everyone else is experiencing because we're not feeling this passion. Perhaps thinking that we are supposed to feel this kind of burning passion has caused some to think they don't love God because they don't feel that kind of intensity of lack which cries out to be filled regarding the Lord.
Yeshua showed us that obedience is about grace, honor, willing hearts and making Him our first priority in life.

Yes, there are verses that say things like, "As the deer pants for the water brooks, so my soul pants for You, O God. My soul thirsts for God, for the living God" (Psalm 42:1,2), but this wasn't about worship and knowing God. This is about David being in a crisis with his enemies coming against him, saying he's been abandoned by God. David is in emotional and spiritual crisis himself. There's a time to pray that Psalm. But to sing if as if we are just wanting more of God can mean we bypass the peace the God offers to us and put ourselves in a state of angst instead and call it spiritual. The word of God tells us repeatedly things like this: 'Behold, I will bring… health and healing, and I will heal them; and I will reveal to them an abundance of peace and truth" (Jer. 33:6). "I will make a covenant of peace with them" (Ezek. 34:25; 37:26). "Grace to you and peace from God our Father and the Lord Jesus Christ" (2 Cor. 1:2; Galatians 1:3; Eph 1:2). I could list hundreds of these peace verses. Granted these speak of peace and not love, but you have to have peace in order to trust and you have to trust someone in order to love them. You don't love someone you don't trust. We can love God because He is utterly trustworthy.
I wonder, however, if we are doing our part of the love relationship if we feel we don't love the Lord as we expect we should. A marriage takes two to make it a love relationship, so it is with our relationship with the Lord. Perhaps if we spent time with Him and tell Him just who He is to us, acknowledging what He has done on our behalf, telling Him how we appreciate Him, being thankful, we might awaken the love for Him we all desire in our innermost being. We were made for loving Him. If you are one who feels you lack in love for the Lord, or for that matter even if you don't, please consider the following verses as a part of your time with Him. I promise you, as you continue to tell Him you want to love Him with all your heart, soul, mind and strength, in time, he will heal your hurts and bind up your wounded heart, and He will put His love within your heart for Himself as He enables you to receive His love for you.
"Glory in His holy name; Let the heart of those who seek the LORD be glad. Seek the LORD and His strength; Seek His face continually. Remember His wonders which He has done, His marvels and the judgments uttered by His mouth," (Psalm 105:3-5)
"Glory in His holy name; Let the heart of those who seek the LORD be glad. Glory in His holy name; Let the heart of those who seek the LORD be glad" (1 Chron. 16:10).

"I am convinced that neither death, nor life, nor angels, nor principalities, no things present, nor things to come, nor powers, nor height, nor depth, nor any other created thing, will be able to separate us from the love of God, which is in Messiah Yeshua our Lord" (Rom. 8:38, 39).
"May the Lord direct your hearts into the love of God and into the steadfastness of Messiah" (2 Thess. 3:5).
Amen.
Reprint of this article is permitted as long as you use the following; Use by permission by Messianic Vision, www.sidroth.org, 2011.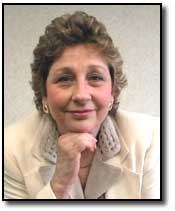 Scripture quotations are from the New American Standard Bible Copyright ©1960, 1962, 1963, 1968, 1971, 1973, 1975, 1977, 1995 by The Lockman Foundation, La Habra, Calif. All rights reserved. Used by permission.
---