God-Think & Giant Slayers
by Lonnie Lane
Last week I was in the presence of the likes of Joshua and Caleb — men of "a different spirit" (Numbers 14:24), men of strength, boldness and gentle humility, and most of all, men who believe God. These men are leaders who lead other leaders as high ranking Generals in the Israeli army. They know their weapons and their technology as experts. But it is in God and His Word that they put their trust. And they are teaching other leaders to do the same.
Why Joshua and Caleb? If you remember the story of spying out the land, God promised the children of Israel the land He was giving them. When it was time to take the land, they sent twelve men to see what the land looked like, one from each tribe with the exception of the Levites who served the tabernacle. (Manasseh and Ephraim make two for Joseph's tribe making it twelve.) These were "men who were heads of the sons of Israel" (Numbers 13:3). All of them leaders.
Not all leaders will exhibit worthwhile leadership skills in the midst of difficult and challenging circumstances.
When they returned after 40 days they had a great report about the land beautiful, lush, plentiful. "But," nine of them said, "There also we saw the Nephilim (Giants)… and we became like grasshoppers in our own sight, and so we were in their sight" (Numbers 13:33). Not only did they see themselves as entirely inadequate for the task of taking the land, but they projected their own sense of inadequacy on how they expected the "giants" saw them. Nothing more than grasshoppers.
However, Joshua and Caleb saw the whole thing through God's word to them. They believed God, not the circumstances. They had seen God work through incredible situations to bring them release from Egypt, to feed a few million people and provide water for them. No sickness, no weariness. Not even a sandal wearing out (See Deut. 29:5). They had God's protection and the Lord had made His presence known to them again and again as their Overcoming God. Why would He not be equal to accomplishing all He had promised to them now? Were these giants greater than Egypt's power? Were these giants greater than God? Of course, not. At least to Joshua and Caleb.
All of these men were chosen as leaders. They all were well respected men, heads of tribes. But nine of those leaders led a couple of million people into a decision that kept them wandering around a desert for a generation until all those who did not believe God died out. The only ones of that generation who actually got to inherit the land was Joshua and Caleb. Out of several million people the only difference was of those who believed God! As we see, not all leaders will believe God. Not all leaders will exhibit worthwhile leadership skills in the midst of difficult and challenging circumstances. One of the Israeli men said, "You can tell a true leader by how he rides out the waves of trouble." The troubles won't take them out.
People with leadership abilities will always lead. They have an innate something that causes people to look to them for leadership. We need to choose our leaders carefully. Be wise and discerning about whom you follow. Not all leaders will lead wisely or in a godly manner though they may be very charismatic and draw people to them. Not all will truly trust in God or follow Him and His ways in a time of crisis. The test may well be how much he depends upon Yeshua now, that he knows His weakness but also knows how to draw his strength from God. The same test goes for you. Your ultimate Leader is Yeshua and your trust must be in Him and not another person. He is the One you follow and He never makes wrong decisions.
I remember telling each of my grandsons individually when they were still little boys that they were leaders and that they would always be influencing their friends in one way or another, either for good for not for good. I wasn't putting a weight of responsibility too heavy upon them, but just giving them an awareness that the choices they make and what they decide to do or not do will likely influence others who will go along with them. With what kids are faced with today, they are in great need of leaders among them who will make wise and discerning choices. We who are older must encourage them to do so and believe in them that they will. By God's grace, I'm watching leaders in the making in my grandchildren. You can do that too with the young people in your life. See them with God's eyes, not the devil's.
In reality we are all leaders. We all influence people around us. There are always people who will warm to our strengths, or will be negatively affected if we project failure or hopelessness, criticism or cynicism. I'm happy to report, however, that in God there is no failure. There is always hope in God. Yet, the question remains, will we be Joshua's and Caleb's when difficult or challenging situations present themselves and be God-trusters? Or will we succumb to the grasshopper-syndrome and become giant-fearers instead? I once heard a definition of courage as being afraid and moving forward and doing it anyway. We can, of course, postpone making a decision, or we can stay in denial of the issues altogether. But to not decide is to decide! Let me put it another way. A wonderful opportunity is presented to you, but you put off taking advantage of it for whatever reason, and you never quite get around to actually acting on the opportunity. Your lack of action robs you of the opportunity as if you had decided against it. I heard somewhere that a person who puts off till tomorrow what they know they should do today, probably won't do it tomorrow either. Do we sometimes do that with God's Word? We would never say we won't obey Him, would we? But perhaps the statement above can be interpreted to be saying, to not obey is to disobey.
As believers we might say we need to keep the Word of God in our hearts, but it must be in our minds also.
We know what the Hebrews on the desert didn't know, that there is a devil whose determination is to keep God's people from all He wants to give to us and for us to be. The Hebrews had a physical land to occupy and make their own; as believers in Yeshua we have a spiritual land to occupy and make our own. That doesn't mean we deal only in ethereal spiritual matters and not things here 'on the ground' but that we know that "our struggle is not against flesh and blood, but against the rulers, against the powers, against the world forces of this darkness, against the spiritual forces of wickedness in the heavenly places" (Eph. 6:12).
The Israeli generals I was privileged to hear tell their stories recently are not believers in Yeshua, but they are God-loving, God-fearing Jewish men who see that the war they are in is, yes, about the land, but it's not their land as Israelis, or even as Jews — it is God's land! They are fighting God's battle for His land. They teach those over whom they have leadership and authority, "Know your Bible, navigate the land through your knowledge of the Bible. Know what happened in the Bible where you are standing on the land you are now defending. Navigate through the Bible, not only where your feet are standing and your eyes see, but in your mind" (my paraphrase). In Paul's words, "Be renewed in the spirit of your mind" (Eph. 4:23).
These men as soldiers and leaders are teaching others to enmesh themselves in God-think! We would be wise to heed their exhortation to learn how God thinks and to think like He does on a deeper level than we already do. As believers we might say we need to keep the Word of God in our hearts, but it must be in our minds also. The new young leaders are learning skills to enable them to be able to think clearly under stress, to discern exactly what is taking place in order to 'respond' wisely and not 'react" unwisely, to know what any given situation calls for, to recognize who can be depended upon in the midst of a crisis, how to maximize their effectiveness in times of need, and to make strategic and wise decision when circumstances call for it and in Israel, this kind of leadership is critical. We here in North America have been rather sheltered from having to be faced with those kinds of responsibilities and choices. But what if that shelter starts to deteriorate — like our economy is presently doing? What if things do not remain as they were? We've heard of a shaking going on — and we must remember it is God, not the enemy, doing the shaking in order to shake us loose from what will not profit us in the long run as citizens of heaven.
What those generals are emphasizing to their people are Biblical values. We too need to rethink 1) what we really value and 2) what values we will continue to live by. "You can have all the technology and weaponry", they tell their people, "but you must also live by Biblical morals in order to succeed." These men know that Israel has lost their land in the past because they strayed from God and adopted what were not godly ways. As one of them said, they have troubles with their neighbors because they're not is such a good neighborhood. Their neighbors want to destroy them. They have won the wars with their neighbors against incredible odds only because God has been with them. But they also know that as the pressure against them increases, they can only withstand their enemies if God continues to be with them and to fight for them. There is no real difference between when Israel fought her enemies in the Bible and now. Same enemies, as a matter of fact. Same land. Same need for God's intervention.
However, much of Israel is more secular than spiritual. I'm grieved to say that along with the wonderful things that America has always stood for and blessed the world with, America has also exported her ungodly lifestyle to the world, including to Israel. These powerful and gentle men carry authority and humility as part of their identities (I'm sure they'd be embarrassed to hear me say that of them.) One of the men, told us of how he was blown up by Hamas (Hamas means Islamic Resistance Movement resisting Israel, in other words). He not only managed to live after being 94% disabled, but with Israeli medical expertise he is back out being a general again, not in a rocking chair somewhere, or behind a desk. He's making a difference in the lives of the younger generation, building leaders in Israel. That's chutzpah!
As you likely know, when significant things happen in Israel, there is a corresponding happening among the believers elsewhere.
He talked about his getting 'back out there' and fighting the forces against them as part of his identity, but not an identity as a person who wants some vindication for what they did to him (I detected no bitterness in him) but for the identity of Israel as God's land. This battle is not just a battle against Israelis, but against God's people. It's not about Israel's land, it's about God's land. And in that sense, it's a battle for the vindication of God's Name!
As you likely know, when significant things happen in Israel, there is a corresponding happening among the believers elsewhere. Explained Biblically — "the spiritual is not first, but the natural; then the spiritual"(1 Cor 15:46). This verse has been coming up a lot recently. When I heard these Israeli men speak, I became greatly encouraged that what God is doing in Israel He is going to do among the followers of Messiah with this same kind of integrity, values and God-think among young people (and older; I'm not so young and I'm getting this), people who see that this life isn't about our own individual identities, or even our church's or our denomination. The meaning of life is not about our lives or even our country. If we are followers of Messiah then our first priority must be, as it was Yeshua's, "Thy Kingdom come, thy will be done on earth as it is in heaven" (Matthew 6:10 KJV). As believers all we do and our values must be God's. We are His people here to fight His battle, to vindicate and bless His holy name. I see God raising up men and women, and young folks like my grandsons who carry this kind of leadership capacity, integrity and love for God. May God protect them all and make them all like David's for Him — giant-killers.
What I love most about David was his motive for killing his giant. Goliath's name means "exile" with the root of his name being to denude especially in a disgraceful sense, as in captives being stripped. It could have meant exile for Israel or being disgraced by being taken captive by the Philistines had they won over Israel. When David hears about it, his response is to know who will "take away the reproach from Israel? For who is this uncircumcised Philistine, that he should taunt the armies of the living God?" (1 Sam 17:26). It's God's army and God's land to David. He takes on the challenge himself, a young soldier for the Lord. And before he hurls the stones that will kill Goliath, he hurls these words at him: "I come to you in the name of the LORD of hosts, the God of the armies of Israel, whom you have taunted. This day the LORD will deliver you up into my hands… that all the earth may know that there is a God in Israel" (:45, 46, my emphases).
There it is! That's the issue. It is for God's name, for His identity as Lord of all the earth, not just Israel that fight His battles, that we obey His Word, that we navigate our lives according to His Word, and that we think like God thinks (God-think!). We love as God loves, we forgive as God forgives, we are generous as God is generous, we are righteous and just as God is righteous and just. Our identities are wrapped up in His identity. We are His; He is ours. It is for such a time as this — that we, all of us, were born. There are times I want to jump into the TV and become one with The Waltons and forget all this going on today. But then I remember that leaders are made, not born. We choose to be leaders, each one of us, for we will affect others around us one way or another.
Don't let the devil discourage you that your weakness is the deciding factor in your life. Remember what God told Paul: "My grace is sufficient for you, for power is perfected in weakness." And Paul's response was one he had to choose: "Most gladly, therefore, I will rather boast about my weaknesses, so that the power of Christ may dwell in me" (2 Cor. 12:9). Paul made wise and discerning choices, he showed forth strength of character and determination to go forth in the strength of God that dwelt within him. You may be weak in yourself, but there is a strength and a wisdom from God that indwells you if you are Yeshua's. Your strength then is from God. You know what His Word says. You know what He's promised. So be like Joshua and Caleb. Or like David. We have the same God they did. In fact, as born again believers, we have a greater anointing than they did. We have the Spirit of God indwelling us. So act out of your strengths, and not your weaknesses, in Yeshua's Name. Amen!
Reprint of this article is permitted as long as you use the following; Use by permission by Messianic Vision, www.sidroth.org, 2010.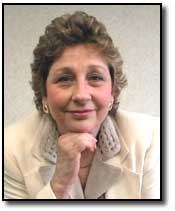 Scripture quotations are from the New American Standard Bible Copyright ©1960, 1962, 1963, 1968, 1971, 1973, 1975, 1977, 1995 by The Lockman Foundation, La Habra, Calif. All rights reserved. Used by permission.
---